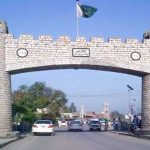 LAHORE: As many as 6 accused of gang-rape of a teenage girl in Lahore have been arrested while the influential prime suspect Adnan, seen in photograph with top PML-N leadership, is still at large.
According to details, new details of the gang-rape case have come to the light as per which the police have arrested the people who brought the victim to the hospital instead of those named.
The prime suspect Adnan was seen photographed with top leadership of Pakistan Muslim League-Nawaz (PML-N) including Rana Mashhood. Mashhood has denied any links with the suspect.
Reportedly, the suspects were identified and nominated by the victim's mother. The prime suspect who is already facing murder charges in another case brought the victim to the hotel and is still at large.
The police also claimed that the victim was drugged and that those she pointed towards were arrested. Out of arrested accused, 3 are Evacuee Trust Property Board. Those arrested maintain they don't know the victim and that they only transported her to the hospital.
On December 25, a youth was allegedly intoxicated and raped by as many as six to seven persons in a guest house on Mall Road. The victim was shifted to a hospital where the medics confirmed sexual assault.
The girl, belonging to Rana Town area of Multan Road had gone to see a tailoress along with her brother. According to her mother, she went missing from there on and later was reported to have been raped.
The youth was shifted to the Civil Hospital in critical condition. Brother of the victim told the police that the culprits had abducted his sister using a dark Honda Civic.
In her statement, the rape victim said that she was intoxicated and later raped. She said that she was kidnapped and then shifted to a guest house on the Mall.
Mother of the victim has demanded the authorities concerned to arrest the culprits and do justice in the matter.