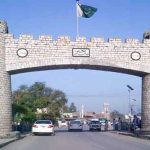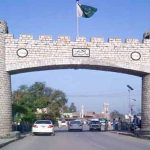 LAHORE: The local government on late Wednesday brought containers to place at various places in Lahore to bar Pakistan Muslim League-Nawaz (PML-N) supporters from welcoming ex-prime minister Nawaz Sharif and his daughter Maryam Nawaz.
According to details, as many as 22 officials of the National Accountability Bureau (NAB) and 100 Elite Commandos will be deputed at the Allama Iqbal International Airport.
The arrangements for the shifting of the convicts, who are coming from London after inquiring health of Begum Kulsoom Nawaz, to Adiala jail through helicopter have been completed while a letter has also been dispatched to accountability court judge Muhammad Bashir to reach Adiala jail on July 13.
Caretaker interior minister has also warned of taking strict action against those violating section-144.
On the other hand, PML-N leaders Ayaz Sadiq, Saad Rafique and Pervez Malik have said that the supporters will go to the airport to welcome their quaid.
The former premier's son-in-law was arrested on Sunday. Captain (retired) Safdar, who was given a one-year jail by the corruption court, NAB said in a statement.
Safdar and supporters had driven around the garrison city of Rawalpindi holding impromptu rallies, local television showed.
On Friday, former prime minister Nawaz Sharif, Maryam Nawaz and Captain Safdar were convicted and sentenced to prison in absentia for ten years, seven years and one year respectively, in a verdict that is likely to further disrupt an already chaotic campaign for national elections this month.
The sentence and a fine of 8 million pounds, or $10.6 million, came almost a year after Supreme Court removed Sharif from office and less than five months after the court barred him from holding office for life.
The case stemmed from the Panama Papers leak that disclosed expensive and undeclared property owned by the Sharif family in London.