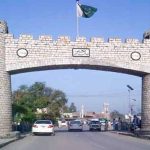 UPPER DIR: A child was killed and four others including two women were injured over a land dispute between two rival groups in Serati area of Upper Dir on Friday.
According to details, two rival groups opened fire on each other over a land dispute in Serati area of Upper Dir.
As a result, a child named as Talha was killed and four other people including two women sustained injuries.
The injured people have been taken to hospital for medical assistance.