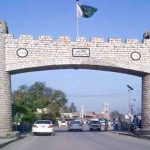 WANNA: At least two people were killed and three others sustained injuries when two groups exchanged fire over land dispute in South Waziristan Agency (SWA).
According to local sources, the incident took place in Cheni Khwa area of Wanna – the headquarters of SWA.
Two groups engaged in firing at each other Saturday midnight while using light and heavy weapons, the sources said.
They added that the feud claimed two lives and three others were wounded, who have been shifted to Agency Headquarter Hospital for medical attention.
The exchange of fire continued till the compilation of this report.