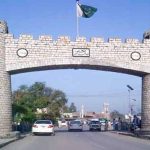 LANDI KOTAL: A woman and her three daughters were killed in a landslide in Landi Kotal subdivision of Khyber District in Khyber Pakhtunkhwa.
According to media reports, the incident took place in Mukhtar Khel area of Landi Kotal when the women were digging out mud for construction.
The reports added that residents of the area pulled the corpses from the debris unaided and shifted them to Agency Headquarter Hospital Landi Kotal.