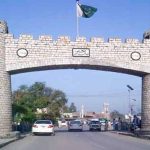 CHAGAI: A terror bid was foiled in Chagai district of Balochistan as intelligence agencies seized large cache of explosives on Sunday.
Security sources said that intelligence agency carried out a raid and recovered large amount of explosives which included rocket launchers, hand grenades, mortar shells, landmines and other explosive material.
Intelligence agencies carried out the raid after receiving information of the explosive materials being smuggled into Pakistan from Afghanistan.
No arrests were reported as yet.
Sources have also said that the security of the Pak-Afghan border has been tightened after the operation.
It should be noted that Balochistan is hit by a series of terrorist incidents committed by religious radicals and separatist insurgents.
The sufi shrine of Shah Noorani in Khuzdar district of Balochistan recently suffered a suicide bombing attack, which left at least 42 devotees and wounded more than 50 others present at the shrine.
Earlier, in another terrorist attack at least 60 people were killed and more than 100 injured when gunmen wearing suicide vests stormed a Police Training Center in the Balochistan capital Quetta and took hostages, before launching an armed assault
Earlier, 72 people were killed in a bombing attack at Quetta's Civil Hospital following the killing of Balochistan Bar President Bilal Anwar Kasi. Most of the victims of the bombing were lawyers.
All three massive terrorist attacks in Balochistan this year have been claimed by the Islamic State.