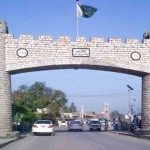 ISLAMABAD: Election Commission of Pakistan (ECP) has said in a statement that today (Tuesday) is the last day for registration of votes in the voters' list for the next general elections.
The Commission has asked the people to visit the nearby display centers or the district election commission office to get their votes registered or get their details corrected.
It said that forms may be downloaded from the website of election commission of Pakistan or can be acquired from the display centers and the district election commission offices.
The Election Commission of Pakistan has launched training of polling officers and assistant presiding officers from all four provinces including Islamabad and FATA.
The training will continue till 12th of the next month.