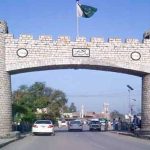 ISLAMABAD: Federal Minister for Law Zahid Hamid has resigned from his office on Monday, state-run TV channel reported.
The government sources also informed that Federal Minister for Law Zahid Hamid has handed his resignation to Prime Minister Shahid Khaqan Abbasi.
Zahid Hamid has reportedly said that he was resigning only to resolve the current crisis in the country. He further said that has firm belief in the finality of Prophethood (PBUH) and did not believe that anything he had done was wrong.
Zahid Hamid's resignation came a day after deadly clashes between Tehreek-e-Labbaik protesters and police in Islamabad left seven people dead and 417 injured.
Countrywide protests erupted soon after police and paramilitary forces fired tear gas and rubber bullets to disperse Tehreek-e-Labaik protestors from Faizabad.
Tehreek-e-Labbaik started sit-in protest at Faizabad Interchange on November 6 demanding Law Minister Zahid Hamid resignation because of his role in the amendment to the Khatam-e-Nabuwat law.