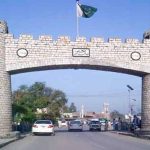 ISLAMABAD: Defense Minister Khawaja Muhammad Asif has said that law will take action, if writ of the state is challenged.
In an interview with a private TV channel on Friday night, he said that the attempt to attack the national institutions will be foiled with full force. He said the rights of the citizens will be safeguarded completely.
To a question, he said investigation is underway to probe the matter regarding the publication of a news item related to the national security.