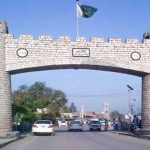 PESHAWAR: Lawyers across Khyber Pakhtunkhwa are observing strike on Saturday on the call of Khyber Pakhtunkhwa Bar Council in protest against Mardan district court suicide blast that killed at least 14 people.
At least 14 people were killed and more than 50 wounded on Friday morning after a suicide bomber attacked the district court in the city of Mardan, the latest assault targeting Pakistan's legal community.
Today, markets and business centers are closed in the city to mourn the incident.
Lawyers are present at the bar room where political leaders and prominent personalities are visiting them to express solidarity and offer fateha for the victims.
Reportedly, several injured persons have been discharged from Mardan Medical Complex after treatment.
No group has yet claimed responsibility for the attack, which comes three weeks after a massive suicide blast killed scores of lawyers in the southwestern Pakistani city of Quetta, in Balochistan.