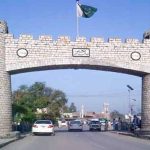 LAHORE: Following the call of the Lahore High Court Bar Association (LHCBA), lawyers in Lahore will observe a strike today against what they say is torture and arrest at the hand of police at the Punjab Institute of Cardiology (PIC).
On Wednesday, the two-hour-long talks between lawyers and city administration failed, following which the LHCBA announced they will observe a strike.
A group of lawyers stormed the emergency ward of PIC on Wednesday afternoon and vandalised public property, set a police vehicle on fire and attacked provincial minister Fayyaz ul Hasan Chohan.
Videos of the incident shared on Twitter showed police officials, clad in riot gear, were rendered helpless as a swarm of lawyers, outnumbering the law enforcement personnel, broke the entrance of the hospital.
Pakistan Bar Council (PBC) Vice-Chairman Syed Amjad Shah denied the involvement of bar representatives in the incident and strongly condemned the incident. Shah said the bar will take action against those responsible for the incident.
Meanwhile, PBC Vice-Chairman Shah Nawaz Imaeel, member PBC Ahsan Bhoon, LHCBA's President Hafeez ur Rehman, secretary LHCBA Fayyaz Ranjha, President Lahore Bar Association Asim Cheema and others met LHC Chief Justice-designate Justice Mamoon Rashid Sheikh on Wednesday evening to demand release of the arrested lawyers and to cancel the first information report against them.
Separately, government hospitals in Islamabad will observe a two-hour token strike today to express solidarity with health professionals of the Punjab Institute of Cardiology.
"The All Employees PIMS Restoration Movement (AEPRM) strongly condemns the terrorist attack carried out at the Punjab Institute of Cardiology by so-called lawyers. We stand by our brothers and sisters at PIC at this crucial moment and condemn the criminal negligence of the Punjab government, which failed to extend security to health professionals in the province," AEPRM's spokesman Dr Asfandyar said.
Demanding the arrest of culprits involved in the incident and resignations of Inspector General police and Punjab health minister, Dr Asfandyar, termed the day as a 'Black Day' and criticized the government and the police for acting as silent spectators while lawyers indulged in "acts of terrorism."
He insisted that action be taken against those who miserably failed to uphold their image as custodians of the law. "Our ultimate demand will be the passage of a security bill for hospitals from the National Assembly," Dr Asfandyar added.
Punjab Chief Minister Usman Buzdar on Wednesday ordered the formation of an investigative committee under provincial Law Minister Raja Basharat.
Provincial Health Minister Dr Yasmin Rashid, IG police and additional chief secretary interior are also part of the committee. The committee has been tasked to investigate the incident and submit the report to the chief minister.