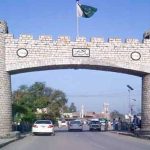 KARACHI: Lawyers are observing black day today in wake of riots that erupted in 2007 between different political parties claiming at least 50 lives.
Alleged unconstitutional suspension of former chief justice of Pakistan (CJP) Iftikhar Muhammad Chaudhry had caused unrest in Sindh's metropolitan after he arrived to address bar association s meeting and a lawyers' convention.
Lawyers, supported by Awami National party (ANP) and Pakistan People's Party (PPP), moved towards Jinnah's Mausoleum where the ex-CJP was to address the gathering when Muttahida Qaumi Movement (MQM) workers clashed with them.
MQM had sided with the government in the matter and denounced alleged politicisation of Chaudhry's suspension. The party was rallying against the supporters on former chief justice's arrival in Karachi that day.
May 12 marks a black day every year for lawyers as hundreds were wounded and at least 50 killed. Government had used its machinery to block roads while police played a spectator's role.
Former president Pervez Musharraf had suspended Iftikhar Muhammad Chaudhry on March 9, 2007. The protests that followed former CJP's suspension culminated into a movement led by lawyers.
Karachi bar president Mehmoodul Hassan, in connection with May 12 tragedy, has demanded the Sindh government today to forward a reference to the judiciary to unmask the culprits. Bar's secretary Haq Nawaz Talpur said that 'names of perpetrators were written on the walls, authorities just needed to read them'.