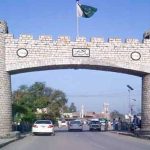 LAHORE: Lawyers on Monday created a ruckus and went on rampage at the premises of Lahore High Court (LHC) after a larger bench on Monday ordered arrest of president Multan bench Sher Zaman Qureshi and secretary Qaisar Abbas.
Protesting against the court's order, the rampaging lawyers broke down the main entrance gate of the court and went on Mall Road forming a protest demonstration.
A five-judge of LHC bench headed by Chief Justice Mansoor Ali Shah heard Multan Bar contempt of court case. The hearing has been adjourned till tomorrow.
In today's hearing, the court summoned two lawyers including Sher Zaman. Tight security arrangements were in place with paratroopers deployed at the entrances of the court.
Lawyers also manhandled the policemen on duty at the court premises in protest against the court's arrest order.