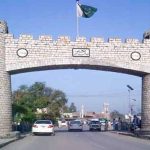 ISLAMABAD: Opposition leader in National Assembly Syed Khurshid Shah has demanded judicial commission for probe into alleged rigging during local government elections in Khdyber Pakhtunkhwa and backed Imran Khan's proposal of re-elections in the province.
He was talking to newsmen here on Tuesday. He said that he was not satisfied with LB polls in Khyber Pakhtunkhwa as massive rigging has been alleged in the elections. Besides mismanagement, violence was also reported from various parts of the province, he said.
Khurshid Shah backed Imran's proposal of re-elections in the province, saying that reelection could be held under the supervision of the paramilitary forces. He alleged that the PTI ministers have broken all the records of rigging in Khyber Pakhtunkhwa LB polls.