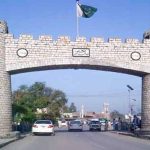 LAHORE: At least 26 people were injured when a powerful explosion occurred at a parking lot on Out Fall Road in Islampura area in Lahore on Monday evening.
DIG Operations Dr Haider Ashraf confirmed that the explosion happened in a fruit laden truck which was parked at a parking lot on Out Fall Road in Islampura area.
The police official said that explosives were hidden in the truck which accidentally triggered, causing damage to scores of vehicles parked in the area.
The injured were rushed to nearby Mian Munshi Hospital and Mayo Hospital, where an emergency has been imposed. Due to a power breakdown following the blast, hospital authorities are facing problems in carrying out emergency operations.
Police and other law enforcement personnel (LEAs), including forensic experts, reached the blast site soon after the incident and cordoned it off.
The roof of a nearby house had collapsed due to the intensity of the explosion, while the windowpanes of nearby buildings had shattered from the shock waves. A number of automobiles were also damaged in the incident.