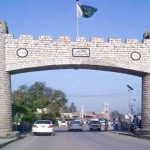 ISLAMABAD: Former prime minister Nawaz Sharif and his daughter Maryam Nawaz met their lawyers at Adiala jail here on Saturday.
The legal team comprising Nawaz's counsel Khawaja Haris and Maryam's lawyer Amjad Pervaiz met the duo and Maryam's husband Captain (retd) Safdar Awan at the Adiala jail, where the three are currently serving their prison sentence following their conviction in a corruption reference.
During the meeting, important legal matters pertaining to the Sharif family corruption cases were discussed.
Speaking to the media after the meeting, Advocate Pervaiz said, "Mian Sb is determined and hopeful." "The former premier feels he was not granted the facilities that he should have been given," he added.
Speaking about Capt (retd) Safdar, Maryam's counsel said, "He is a heart patient and his medical records are available."
"Capt (retd) Safdar does not want to seek any medical facilities beyond those offered in the jail manual."
Further, Advocate Pervaiz said, "Maryam does not want to avail better facilities."
Nawaz Sharif was sentenced to a total of 11 years in prison and slapped a £8 million fine while his daughter Maryam was sentenced to eight years with a £2 million fine in the Avenfield corruption reference by an accountability court earlier this month.