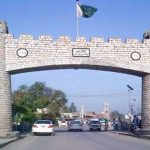 RAWALPINDI: The Lahore High Court(LHC) on Thursday accepted the application of Tehreek-i-Taliban Pakistan suspects against their detention and ordered the Deputy Commissioner to appear before the court on October 10.
The three accused Rafaqat Hussain, Sher Zaman and Husnain Gul in Benazir Bhutto assassination case have challenged their detention in Lahore High Court(LHC) on Wednesday.
The application was filed by their counsel Malik Khalid Jawad, asking the court to dismiss their detention as ATC in its ruling on August 31 had ordered their release.
The five TTP suspects – Rafaqat Hussain, Husnain Gul, Sher Zaman, Aitzaz Shah and Abdul Rashid – were the main accused in BB assassination case. Pakistan Peoples Party has filed an appeal in LHC to award death sentence to the five Tehreek-i-Taliban Pakistan suspects who have been acquitted by the ATC.