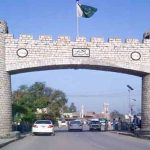 LAHORE: The Lahore High Court (LHC) on Monday adjounred a high treason case against former prime ministers Nawaz Sharif and Shahid Khaqan Abbasi till November 12.
A three-member LHC full bench headed by Justice Mazahar Ali Naqvi and comprising Justice Atir Mahmood and Justice Chaudhry Masood Jahangir heard the treason petition against Abbasi, Nawaz and journalist Cyril Almeida.
The bench had directed the former premiers to submit a reply in court today regarding the case. However, former premier Abbasi appeared before the bench today but Nawaz failed to.
Justice Mazahar Ali Naqvi questioned why Nawaz did not appear in court and remarked, "He should have been present for the hearing."
Nawaz's counsel, Naseer Bhutta responded, "You had summoned a reply which has been submitted." Justice Naqvi then stated, "Look Abbasi respects the courts and is present today."
Bhutta in response said, "Nawaz did not appear today and this does not mean that he does not respect the courts." The head of the three-judge bench then stated, "If Nawaz could not appear today for whatever reason, then you should have submitted a petition."
Responding to the judge, Nawaz's counsel said, "During the first hearing I got the impression that my client only has to appear once."
At this, Justice Naqvi remarked, "It is fine that you got the wrong impression, but next time a petition should be submitted over failure to appear in court."
The hearing of the case was then adjourned till November 12.