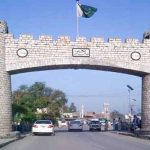 LAHORE: The Lahore High Court on Monday adjourned the hearing of a high treason case against former prime ministers Nawaz Sharif and Shahid Khaqan Abbasi till October 22.
The former premiers appeared before a three-member LHC full bench headed by Justice Mazahar Ali Naqvi today. The bench also comprising Justice Atir Mahmood and Justice Chaudhry Masood Jahangir heard the treason petition against former prime ministers Shahid Khaqan Abbasi, Nawaz and journalist Cyril Almeida.
As the hearing began, former premier Abbasi's lawyer requested the court to adjourn the hearing and fix it for after the by-polls scheduled for October 14. Accepting the request of the former premier's lawyer, the bench adjourned the hearing till October 22.
Security was increased with heavy contingents of Rangers and police deployed outside the court during the hearing. Several Pakistan Muslim League-Nawaz (PML-N) workers were also present outside the LHC premises and surrounded Nawaz when he reached the court.
Nawaz failed to appear before the LHC for the last hearing on September 24. Defence counsel Advocate Naseer Bhutta had apprised the court that Nawaz was unable to appear before it as people were frequently visiting him to condole the passing of his wife Begum Kulsoom. Accepting the postponement request, Justice Naqvi had fixed the hearing for today and ordered Nawaz to appear before the court in person.
The petition, lodged by Advocate Azhar Siddiqui, alleges that Abbasi shared crucial details of the National Security Council (NSC) meeting with Nawaz following his statements on the 26/11 Mumbai attacks.
By leaking details of the NSC Abbasi committed high treason, the petition says.
The petitioner had argued that Nawaz's controversial interview to a newspaper had dented the country's image and sovereignty. He further alleged that Abbasi supported Nawaz in the matter.
The petitioner further prayed upon the court to order a treason trial against the three respondents.
In July, the Lahore High Court had decided to adjourn the hearing till after the general elections.