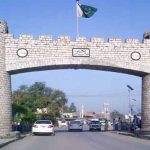 LAHORE: The Lahore High Court on Friday rejected the federal government's stance regarding its jurisdiction to hear the petition seeking removal of former prime minister Nawaz Sharif's name from the Exit Control List (ECL).
"The arguments advanced by the learned Additional Attorney General that the conditions mentioned in the impugned memorandum are based upon the judgement pronounced by the Accoutability Court, Islamabad and challenged before the Islamabad High Court, therefore, this court lacks jurisdiction, has not impressed us for the simple reason as it is not the case of Respondent/Federation that the impugned order does not apply in the Province of Punjab and that if the petitioner wants to exit from the territorial jurisdiction of this Court, he would not be stopped," the two-member bench stated.
"In this view of the matter, we at this stage hold that this court has the jurisdiction to hear this matter," the court announced.
After announcing verdict on maintainability of petition, the high court adjourned case hearing till Saturday.