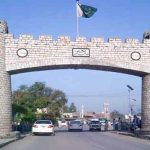 LAHORE: The Lahore High Court (LHC) on Thursday allowed Pakistan Tehreek-i-Insaf (PTI) leader Fawad Chaudhry to contest the upcoming general elections from Jhelum's NA-67 constituency.
Fawad had challenged the decision of appellate tribunal regarding rejection of his nomination papers in LHC.
A two-member bench of the court ruled in favour of the PTI spokesperson while annulling the decision of tribunal.
LHC also issued notices to Election Commission of Pakistan (ECP) and other parties for July 3.
"Dismissing my disqualification, Lahore High Court has permitted me to contest election. It is the victory for PTI and the people of Jhelum. I am thankful to entire lawyer fraternity particularly leaders of Lahore High Court Bar, Pakistan Bar Council and the Punjab Bar who appeared on my behalf," said he in a Twitter post.