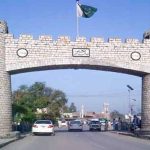 A five-member larger bench of the Lahore High Court (LHC) on Friday started hearing a petition filed by Punjab Chief Minister Parvez Elahi against governor's order which de-notified him as the provincial chief executive.
However, bench member, Justice Farooq Haider has recused himself from hearing the case. He had served as Elahi's lawyer in the past during his legal practice.
Earlier in the day, Chaudhry Pervaiz Elahi moved the Lahore High Court challenging the governor's order to de-notify him.
The petition made Governor Balighur Rehman and Punjab Assembly Speaker Sibtain Khan respondent through principal secretary.
In the petition, Elahi maintained that the governor's letter for taking a vote of confidence was not written to the chief minister but the speaker.
He argued that the governor cannot summon another session until the ongoing session was prorogued.
On other hand, the Pakistani Muslim League-Nawaz (PML-N) has withdrawn the no-confidence motion it tabled against Punjab Chief Minister Chaudhry Pervaiz Elahi following his de notification.