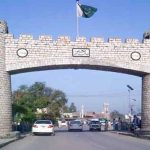 LAHORE: Lahore High Court (LHC) on Monday has declared the appointment of Absar Alam as chairman of Pakistan Electronic Media Regulatory Authority (PEMRA) null and void.
Announcing the verdict reserved on Munir Ahmed's plea, Justice Shahid Kareem annulled the appointment notification of Absar Alam's appointment.
The court ordered the government to appoint new PEMRA chief within next 30 days.
Meanwhile, PEMRA lawyers sought more time to submit details of Alam's appointment but court rejected the appeal.
Earlier, Advocate Azhar Siddiqui had challenged PEMRA Chairman Absar Alam s appointment in the court, alleging that new advertisement with low education requirements was published to hire him.
Federal government's lawyer had denied the accusations and requested to dismiss the case over which the court had reserved the verdict.