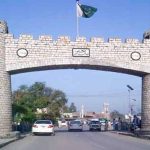 LAHORE: The Lahore High Court (LHC) has on Tuesday dismissed an appeal of a child pornography racketeer – Saadat Amin – against his sentence of seven years in prison.
The court announced its reserved verdict and said the culprit will complete his jail term. After the decision, the bail which had been granted to Saadat Amin earlier has also become ineffective.
The plaintiff had termed his involvement in the case as baseless. He said the trial court had announced its verdict against him contrary to facts and requested the LHC to nullify the decision by declaring it illegal.
The appeal argued that Saadat Amin was not involved in recording any child pornographic video and the Prevention of Electronic Crime Act is not applicable on him.
Let it be known that the trial court had earlier sentenced Saadat Amin to seven years in prison for child pornography racketeering despite insufficient evidences.
Saadat Amin has been imprisoned since 2017 and has already spent four years in jail.