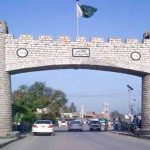 LAHORE: The Lahore High Court (LHC) rejected a petition seeking the public execution of Imran Ali – convicted by an Anti-Terrorism Court (ATC) in the rape and murder case of seven-year old girl Zainab.
A division bench headed by Justice Sadaqat Ali on Wednesday disposed of the petition for being premature saying the convict has yet not taken up his appeal at three forums.
Imran couldn't be executed until rejection of his appeals by all the forums, it added.
On Feb 17, an ATC of Lahore awarded four counts of death penalty to the prime suspect, Imran Ali, for raping and murdering the minor in Kasur.
He was also sentenced to life imprisonment and a separate 7-year jail term. The court also asked him to pay a collective fine of Rs 3.1 million.
It is worth noting that on Tuesday (Feb 20), Imran Ali pleaded not guilty and challenged the ATC's decision in LHC.
In his petition, the suspect has said that legal requirements had not been completed in the trial against him.
He added that the decision was announced in haste and requested the LHC to declare decision of ATC null and void.