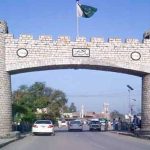 LAHORE: The Lahore High Court (LHC) on Friday dismissed a petition, seeking disqualification of Pakistan People's Party (PPP) Chairman Bilawal Bhutto Zardari and Co-Chairman Asif Ali Zardari for violation of the Election Act, after declaring it non maintainable.
Justice Shahid Karim had reserved the verdict on maintainability of the petition, filed by Syed Iqtadar Haider after hearing initial arguments on Thursday, and it was announced on Friday.
The petitioner had submitted that as per election laws, no political party could use flag and election symbol of another party. He said that Bilawal Bhutto Zardari used Pakistan People's Party Parliamentarians (PPPP) electoral symbol (arrow) in his party's manifesto, which was a violation of Section 215 (3) of the Election Act 2017.
He submitted that PPPP President Asif Ali Zardari was using PPP flag for political activities, which was a violation of Section 200 (2) of the Election Act. He pleaded with the court to disqualify Bilawal Bhutto Zardari and Asif Ali Zardari for violating the Election Act.