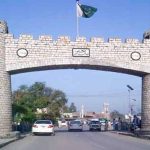 LAHORE: The Lahore High Court (LHC) Wednesday rejected a petition against arrest of PTI senior leader Fawad Chaudhry, saying that the police have followed the rules and procedure for Fawad Chaudhry's arrest.
Justice Tariq Saleem Sheikh told the counsel for Fawad Chaudhry to approach relevant forum for relief as his client's arrest was not illegal.
Justice Tariq Saleem Sheikh told Fawad's counsel that his client's arrest was not "illegal" as the police had followed the rules and procedures required for detaining the former minister.
Earlier, the court had directed the authorities to present Fawad before it in response to a petition filed by Fawad's cousin, Nabeel Shehzad, for the "recovery" of the former federal minister. However, the police failed to present the accused in the court.
The court adjourned the hearing of the case, directing the IGs Punjab and Islamabad to appear before the court and present Fawad Chaudhry. However, the police had shifted Fawad Chaudhry to Islamabad after taking transit remand from local court in Lahore.
The IG Punjab Usman Anwar appeared before the court and said that he could not contact the policy party that was transporting PTI leader to Islamabad due to weak mobile signals.
He said that Fawad Chaudhry was in the custody of Islamabad police, adding that the police has not violated any orders of the court.
For his part, Advocate General (AG) Punjab Jawad Yaqoob said Islamabad police has arrested Fawad Chaudhry over an FIR registered at Islamabad's Kohsar Police Station.  He said that the administration had no "ill intention" and added that his arrest was made in line with the law.
The court dismissed the petition, saying that the Islamabad high court is the relevant forum as the FIR was registered in Islamabad.