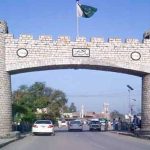 LAHORE: The Lahore High Court (LHC) has extended the interim bail of former ministers Khawaja Saad Rafique and Khawaja Salman Rafique today in Paragon Housing Society scandal, till November 26.
The court resumed the hearing extended the interim bail by 12 days prohibiting National Accountability Bureau (NAB) from arresting both brothers till November 26.
Earlier on October 24, a two-member bench headed by Justice Baqar Ali Najfi heard the case against Khawaja Brothers in which the court halted NAB from arresting Khawaja Saad Rafique.
Khawaja Saad Rafique stated, in his plea, that despite they had proven their innocence during the investigation and proved no connection with Paragon City Housing Society Case still NAB was trying to arrest them, therefore their bail before arrest should be accepted.