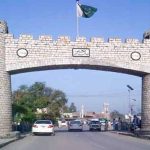 LAHORE: The Lahore High Court (LHC) on Tuesday granted protective bail to former prime minister Nawaz Sharif's son-in-law Capt (retd) Muhammad Safdar.
A bench of the high court approved bail for Capt Safdar against two surety bonds worth Rs0.5 million each.
The PML-N leader approached the court, stating that the National Accountability Bureau (NAB) Peshawar has been carrying out an inquiry against him in connection with alleged accumulation of assets beyond known sources of income.
The Bureau has been persecuting him by serving notices, he alleged and added he received a subpoena from NAB just a day before his scheduled appearance on Oct 18, thus, it was impossible for him to turn up before it on such a short notice.
Besides, Mr Safdar said, he couldn't appear owing to his ill-health.
He, therefore, apprehended that NAB may arrest him in the case, pleading with the court to grant him bail.
Safdar along with Nawaz Sharif and his daughter Maryam Nawaz was released from Adiala jail on Sept 19 after the Islamabad High Court suspended their prison sentences in the Avenfield corruption reference.
The IHC accepted the convicts' petitions against the Avenfield verdict, ruling that the sentences would remain suspended until the final judgement on their appeals.
An accountability court on July 6, had handed Nawaz Sharif 10 years as jail time for owning assets beyond income and 1 year for not cooperating with NAB in the Avenfield properties corruption reference filed by the National Accountability Bureau (NAB).
His daughter Maryam Nawaz was given 7 years for abetment, and her husband Captain (retd) Safdar was given 1 year for non-cooperation with the anti-graft authority.