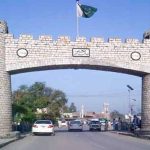 LAHORE: The member bench of the Lahore High Court (LHC) hearing ex-prime minister Nawaz Sharif, his daughter Maryam Nawaz and son-in-law Captain (r) Safdar's plea against their sentences in Avenfield reference, has dissolved today (Wednesday).
The three-member full bench was dissolved after Justice Shams Mahmood Mirza excused himself from hearing the petitions due to personal reason.
LHC had formed a full bench to hear petition against sentences of Sharif family. The decision was taken on the plea submitted by lawyers foundation for justice's A.K. Dogar in which, it was stated that National Accountability Bureau's (NAB) law is no more valid after the implementation of 18th amendment.
It is to be mentioned here that former prime minister Nawaz Sharif, Maryam Nawaz and Captain Safdar were convicted and sentenced to prison in absentia for ten years, seven years and one year respectively, in Avenfield verdict that is likely to further disrupt an already chaotic campaign for national elections this month.
Maryam Nawaz and Captain (r) Safdar, who were candidates for the forthcoming general elections were also disqualified from contesting elections for 10 years each.
The sentence and a fine of 8 million pounds, or $10.6 million, came almost a year after Supreme Court removed Sharif from office and less than five months after the court barred him from holding office for life.
Nawaz Sharif was convicted under section 9(a)(5) of the NAB ordinance.
The case stemmed from the Panama Papers leak that disclosed expensive and undeclared property owned by the Sharif family in London.
Safdar was arrested by the NAB authoritites in Rawalpindi on July 9 while Nawaz Sharif and Maryam were taken into custody by the officials few minutes after their flight landed at Lahore's Allama Iqbal International Airport on Friday night and shifted to Adiala Jail.
Accountability Court Judge Muhammad Bashir, who was present in the jail, issued warrants for imprisonment for Nawaz Sharif and Maryam Nawaz. A team of doctors conducted the medical checkup of both the accused and declared them fit.
Nawaz Sharif and Maryam Nawaz were then shifted to B-Class facility in Adiala Jail.