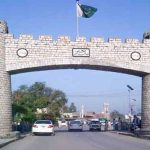 LAHORE: The Lahore High Court (LHC) on Thursday ordered government authorities to allow banned Jamaatud Dawa's (JuD) Chief Hafiz Saeed to continue his "social welfare activities" and not "harass" him until further orders.
Justice Ameenud Din Khan, who heard the petition filed by A.K. Dogar on Saeed's behalf, also directed the authorities to submit their responses on the JuD leader's petition by April 23.
Saeed alleged in his petition that the government was interfering in his party's welfare projects because it had bowed down to pressure from India and the United States.
The petition argues that barring an organisation or party from indulging in charity work goes against the Constitution.
Dogar, who was representing Saeed today, urged that since the case was of a "sensitive nature", the court should form a full bench. Justice Khan responded that the decision to constitute a full bench will be made in the next hearing.
After hearing Saeed's counsel, Justice Khan issued notices to the federal and provincial governments, directing them to file their replies on the matter. The hearing was subsequently adjourned until April 23.