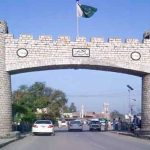 LAHORE: The Lahore High Court (LHC) on Friday ordered to put name of Member National Assembly (MNA) and Member Provincial Assembly (MPA) and others names on Exit Control List (ECL).
A three-member bench headed by Justice Syed Mazahar Ali Akbar Naqvi passed the orders on the petition filed by Kasur District Bar Association President Mirza Naseem.
The court also ordered to present report after inclusion of names on ECL.
On April 13, scores of PML-N workers gathered on the Shahbaz Khan Road outhouse of MNA Waseem Akhtar [on his call]. The rally concluded at Kashmir Chowk where the protesters, led by MNA Akhtar and MPA Naeem Safdar, blocked traffic for about two hours and burnt tyres.
According to FIRs registered on April 18, the speakers – MNA Akhtar, MPA Naeem Safdar, Municipal Committee Chairman Ayaz Khan, Market Committee Chairman Jamil Khan and social security head Nasir Khan – blocked Ferozepur Road near Kashmir Chowk.
They used abusive language against judges and intelligence agencies. The complainants claimed that they had video recording of the suspects.