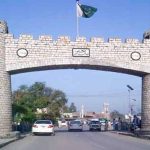 LAHORE— The Lahore High Court (LHC) on Tuesday rejected the pleas of PML-N leader Hamza Shehbaz and Punjab Assembly Deputy Speaker Dost Muhammad Mazari for holding an early election for the chief minister (CM) office and ruled ruled that should be held on April 16.
LHC announced the reserved verdict on the petitions of Hamza Shehbaz and Deputy Speaker Dost Muhammad Mazari while Speaker Pervaiz Elahi's petition to implead him as a respondent was also approved.
The court ordered the deputy speaker to hold the election on April 16. It also directed all respondents to impartially comply with their duties.
The court also ordered to repair the damaged property of the assembly before 11am on the election day while instructing the assembly staff to offer full co-operation.
Hamza and Mazari had sought the judiciary's intervention in holding an early election for the Punjab CM office. Meanwhile, Elahi had pleaded with the court to order the recovery of the government's MPAs who were allegedly held hostage by PML-N in a hotel of Lahore's Gulberg area in a bid to change their loyalties.