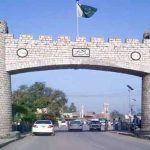 LAHORE: Lahore High Court (LHC) on Thursday has recommended forming larger bech over the petition filed against the convictions of ousted premier Nawaz Sharif and his daughter Maryam Nawaz.
Justice Ali Akbar Qureshi conducted hearing over a miscellaneous plea of Lawyers Foundation for Justice.
The petition filed by Advocate A K Dogar has termed all the steps of National Accountability Bureau (NAB) as illegal after the approval of 18th amendment.
He has requested the court to annul the convictions of both Nawaz Sharif and Maryam Nawaz. A three-time prime minister was convicted under that law which has been nullified, added the plea.
Dogar maintained in the court that accountability court's July 6 verdict has been attached with the petition. He asked the court to constitute larger bench as the matter is of significant nature.
Justice Ali forwarded the file for the formation of larger bench to LHC Chief Justice (CJ) Muhammad Yawar Ali.
It is to be mentioned here that former prime minister Nawaz Sharif, Maryam Nawaz and Captain Safdar were convicted and sentenced to prison in absentia for ten years, seven years and one year respectively, in Avenfield verdict that is likely to further disrupt an already chaotic campaign for national elections this month.