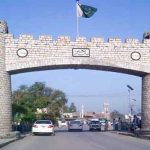 LAHORE: The Lahore High Court on Tuesday rejected a plea seeking public hanging of convict Imran Ali, who is set to be executed on October 17, for the rape and murder of seven-year-old Zainab.
A two-member bench of the LHC, comprising Justice Syed Shahbaz Ali Rizvi and Justice Sardar Muhammad Shamim Khan, heard the plea for Imran's public execution which was filed by Zainab's father Haji Ameen. The provincial home secretary, Punjab Inspector General of Police (IGP) Amjad Javed Saleemi, and convict Imran had been made respondents to the plea.
As the LHC heard the plea today, the counsel of Zainab's father, Ishtiaq Chaudhry, argued, "A public execution can be carried out as per Section 22 of the Anti-Terrorism Act."
The court, however, rejected the plea and said, "Read Section 22. It states that this is the government's domain and we are not the government."
Imran, who was awarded 21 death sentences in the case, will be executed on October 17 at the Central Jail in Lahore.
Zainab was kidnapped from near her aunt's house in Kasur on January 4 and was found dead in a garbage heap five days later.
On January 23, the authorities claimed to have nabbed Imran, a serial killer involved in other such crimes, through a DNA match.
Imran's DNA also matched samples taken from seven other minor girls who were abused and murdered earlier in Kasur, according to the police.
After the police arrested him, Imran reportedly confessed to assaulting eight minor girls at an under-construction site and two others in a garbage heap in Kasur.