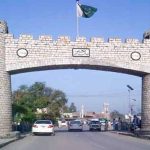 LAHORE: A three-judge bench of Lahore High Court (LHC) on Wednesday resumed hearing into petitions challenging protest sit-in of opposition parties at Mall road in Lahore today.
The petitions have been filed by Mall Road Traders Association and Lawyers' Foundation seeking the court injunctions against sit-in announced by Pakistan Awami Tehreek (PAT) with support of two mainstream political parties, Pakistan Tehreek-e-Insaf (PTI) and Pakistan Peoples' Party (PPP) to demand justice for the victims of Model Town incident.
At outset of the hearing, the bench expressed extreme displeasure over non-appearance of Punjab government's Chief Secretary.
The chief secretary should have turned up at court to brief over the situation and agitation on Mall Road of the provincial capital, the bench remarked.
To which, the Inspector General of Police (IGP) Punjab informed the bench that a ban has been imposed on protests and sit-ins in the affluent adjacent areas of The Mall in Lahore. "Has there been legislation on the matter," the bench enquired.
In response, Advocate General Shakilur Rehman Khan replied that the local administration had informed the Pakistan Awami Tehreek (PAT) leadership about security risks and denied a permission to hold a protest.
On the occasion, the bench remarked that the political parties should demonstrate responsibility for their conduct.
As result of the ongoing preparation for a grand protest in Lahore, the school going children and patients suffered the most owing to traffic congestion, besides traders, the bench remarked.
The provincial government issued a notification of restricting protests in the provincial capital but remained failed to introduce legislation on the matter, the bench noted.
The bench then reserved a judgment on petitions, which is expected to be announced shortly.