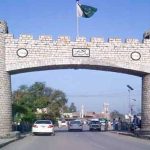 LAHORE: The Punjab government on Monday informed Lahore High Court that it has not withdrawn the security of the former prime minister Imran Khan.
At least 123 policemen are deployed at the PTI chief Imran Khan's security in the provincial capital, the Punjab government informed the court.
LHC judge Justice Abid Aziz Sheikh on Monday heard a petition filed by PTI Chief Imran Khan seeking permission for his video link appearance in the court.
At the outset of the hearing, the Punjab govt presented its report regarding the security of Imran Khan. The LHC was told that the matter of providing security to the former prime minister was reviewed in a meeting.
Azhar Siddique, Imran Khan's counsel sought time from the court to consult on the report submitted by the Punjab govt with his client
The further hearing of the case has been adjourned until March 15.
Earlier, PTI chief Khan has written a letter to the Chief Justice of Pakistan (CJP) Justice Umar Ata Bandial and said that he is facing threats from the rulers.
In his letter to the CJP, Imran Khan stated that he was continuously facing cases and threats after the ouster of his government and an assassination attempt was also made.