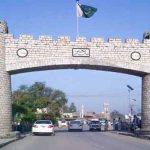 LAHORE: The Lahore High Court has withdrawn the restraining order against the action of police and the Federal Investigation Agency (FIA) against Pakistan Tehreek-e-Insaf (PTI) Chairman Imran Khan.
During the hearing of the Imran Khan's petition regarding cases against him, the federal government's lawyer submitted a report with an affidavit regarding cases register4ed against Imran Khan.
During the hearing, Fawad Chaudhry asked the government's lawyer if the affidavit report was attached. To which Justice Tariq Saleem Sheikh remarked that it is not his job to ask this question but it is the job of the court.
The lawyer of the federal government said that he had been given a list of 23 cases today. The court ordered the government lawyer to sign the list as well. The government lawyer said that the FIA has submitted a verified copy of the list of cases along with the affidavit.
Fawad Chaudhry said that they thought there were only 100 cases, but there are more than 100. Advocate Azhar Siddique said that there are 84 cases against Imran Khan in Punjab, while there are 43 cases against him in Islamabad. The total number of cases in Punjab was 56 and in Islamabad it was 33.
The lawyer of the National Accountability Bureau (NAB) requested for time to submit a reply, upon which the court ordered the NAB lawyer to submit the report of the cases immediately.
Lawyer Azhar Siddique said that on February 17th, he wrote a letter to NAB for the list of NAB cases against Imran Khan, but he was not provided the list. The court ordered NAB and anti-corruption department to submit reports on March 24.
Justice Tariq Saleem Sheikh remarked, "Tell us how many cases are under hearing against Imran Khan in anti-corruption."
Justice Tariq Saleem Sheikh remarked that the details of the cases have been presented by the FIA and police, now the restraining order cannot be maintained. The Lahore High Court withdrew its restraining order against police and FIA action against Imran Khan.