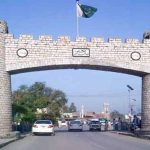 Life returned to normal in Punjab after the police and the paramilitary forces early on Thursday uprooted another mega protest camp of the recently proscribed Tehreek-i-Labbaik Pakistan (TLP) at Shangi Chowk of Ferozepur Road, the stronghold of the organisation.
The operation was professionally handled and the security forces not only had both sides of the road of the city cleared amid brief resistance but also arrested hundreds of activists of the TLP. It was the second last major protest venue for the TLP in Punjab. More than 500 hardened and violent activists of the organisation had staged a sit-in at the intersection.
The Punjab police eradicated 91 protest camps of the TLP which were mostly set up on the leading roads, intersections and exit-entry points of the districts, creating problems for the masses. The TLP had taken to the street across the country especially in Punjab after its chief Saad Hussain Rizvi was detained by security forces in Lahore on Monday last.
Fierce scuffles broke out between the police and the activists of the TLP which made Punjab a battlefield. From amongst 36 districts, the provincial capital Lahore, Rawalpindi and Sheikhupura were the most troubled districts were hundreds of charged activists of the TLP had created law and order situation by making frequent attacks on the police and even the public.
On Thursday, there were only 20 protest venues of the TLP in Punjab which have now been cleared.