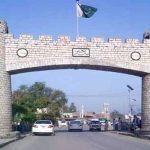 SWAT: As many as five shops were reduced to ashes and five others partially damaged after being hit by lightning in Puran area of Shangla here in Swat on Monday.
According to locals, rain started in the evening but turned into a thunderstorm during which, lightning hit some shops in a market.
Five shops were completely reduced to ashes in a short time, locals said and added that police, fire brigade and the people tried to douse the fire.
They overcame the fire; however it inflicted damage on the shops, the locals added.
Meanwhile, owners of the damaged shops have demanded of the government for financial compensation citing losses of millions of rupees.