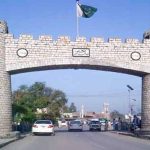 ISLAMABAD: Former Prime Minister Shahid Khaqan Abbasi has filed a bail petition in Islamabad High Court in LNG case.
The petition filed by Shahid Khaqan Abbasi's counsel Barrister Zafarullah Khan in the high court.
The Ministry of Law and the National Accountability Bureau have been made respondents in the plea.
The petition seeks high court to approve the bail until completion of his trial in NAB's LNG reference.
A copy of the court decision with regard to bail granted to Shaikh Imranul Haq has also been attached with the petition.
"The petitioner has been in NAB detention for 191 days and the real motive of the accountability bureau is only to harass the petitioner," the plea argued.
It initiated for his media trial, according to the plea.
The National Accountability Bureau (NAB) has filed an interim reference against the petitioner till now, the petition said.
The petitioner and other accused were not even provided the copies of the reference so far, the petition said.
Also read: Court extends Khaqan Abbasi's judicial remand till Feb 4 in LNG case
Abbasi pleaded to the court for approval of his post arrest bail in the case.
PML-N supremo and former Prime Minister Nawaz Sharif had reportedly asked Shahid Khaqan to seek his release from prison on bail.
The former premier instructed Abbasi to contest corruption allegations levelled against him by the NAB after coming out of jail.
Shahid Khaqan Abbasi, had previously refused to file a bail plea.
Earlier, an accountability court had extended the judicial remand of Abbasi till Feb 04 in LNG reference.