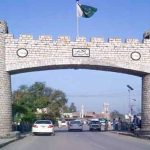 KARACHI: Local court in Karachi has on Wednesday indicted Muttahida Qaumi Movement-Pakistan (MQM-P) leader Dr Farooq Sattar and others in Loudspeaker Act violation case.
During the hearing, Karachi Mayor Waseem Akhtar, Khalid Maqbool Siddiqui, Haider Abbas Rizvi and other MQM leaders were also indicted by a city court.
All accused pleaded not guilty to the charges.
According to National Counter Terrorism Authority (NACTA) sources, more than 70 buildings and yards were sealed in this regard including 41 in Punjab, 25 in Balochistan, one in Gilgit-Baltistan and three in Azad Kashmir.