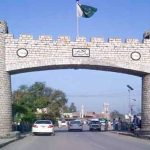 RAWALPINDI: Lieutenant Gen Nadeem Raza has been posted as Corps Commander Rawalpindi.
According to the ISPR, Lt Gen Sarfraz Sattar has been appointed as Corps Commander Multan.
LT Gen Zafar Iqbal has been made DG Joint Staff at GHQ.
Earlier, the Pakistan Army's selection board has promoted seven major generals to the rank of lieutenant general.
According to a handout released by the Inter Services Public Relations (ISPR), the following officers have been promoted to the rank of lieutenant general:
1. Major General Nadeem Raza, he is presently Commandant PMA.
2. Major General Humayun Aziz, he is presently DG W&R at GHQ.
3. Major General Naeem Ashraf, he is presently posted at NDU.
4. Major General Muhammad Afzal, he is presently DG FWO.
5. Major General Sher Afgun, he is presently IG FC Balochistan.
6. Major General Qazi Ikram, he is presented DG PS at GHQ.
7. Major General Bilal Akbar, he is presently DG Rangers (Sindh).