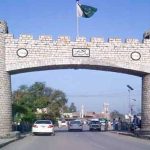 A powerful earthquake levelled buildings across Greece and Turkey, Khyber News reported, killing at least 26 people. The quake struck late Friday afternoon, causing a mini-tsunami on the Aegean island of Samos and a sea surge that turned streets into rushing rivers in a town on Turkey's west coast. The US Geological Survey said the 7.0 magnitude tremor hit 14 kilometres off the Greek town of Karlovasi on Samos.
Much of the damage occurred in and around Turkey's Aegean resort city of Izmir, which has three million residents and is filled with high-rise apartment blocks. Aerial footage showed entire city blocks turned to rubble. Izmir's mayor Tunc Soyer told the media that 20 buildings had collapsed, with officials focusing their rescue efforts on 17 of them. Turkey's disaster relief agency reported 24 deaths and 800 injuries, while in Greece two teenagers died on their way home from school on Samos when a wall collapsed.
Rescuers, helped by residents and sniffer dogs, used chainsaws to try to force their way through the rubble of one destroyed seven-floor building.