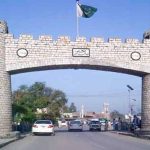 RAWALPINDI: Major General Sarfraz Sattar on Friday has been promoted to 'Lieutenant General' as he is holding command of 8th Division Sialkot.
Inter-Services Public Relations reported the promotion today.
Lt General Sarfraz Sattar belongs to the armed corps and 70th Pakistan Military Academy Long Course.
Sattar has previously served as the Director General of Military Intelligence. He was also appointed as military attaché in to India at one point in his service.