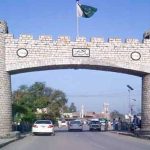 PESHAWAR: A major terror plot was foiled as the Bomb Disposal Unit (BDU) on Friday defused a three-kilogram bomb planted near a flyover in Peshawar.
Police were informed by locals regarding presence of a suspicious bag under Mufti Mehmood Flyover near Bacha Khan Chowk. A police contingent and the bomb disposal unit quickly arrived at the location.
According to a BDU official, a three-kilogram bomb was placed in the bag which has been neutralized.
A suspicious man was also detained and handed over to the Counter Terrorism Department (CTD) for interrogation. The area was cordoned off as a probe into the incident went underway.
The army launched an operation in June 2014 in a bid to wipe out militant bases in the northwestern tribal areas and so bring an end to the bloody insurgency that has cost thousands of civilian lives since 2004. As a result security in the country has since improved.
Scattered attacks still take place, but they are fewer and of a lesser intensity than in previous years.
According to data from the South Asia Terrorism Portal, 457 civilians and 182 members of the security forces were killed in Pakistan from January 1 to September 11, putting 2016 on course for fewer casualties than 2015.