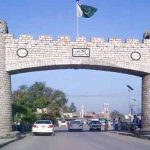 PESHAWAR: Majority of the victims of suicide attack targeting corner meeting by candidate of Awami National Party (ANP), Haroon Bilour here in
Peshawar city on late Tuesday night, are youngsters.
The suicide blast claimed 21 precious lives including of Haroon Bilour who was contesting from PK: 78. About 60 persons were injured among them, 13 are in critical condition.
According to list of victims of the blast, majority of them are young and some of them even adolescents.
The victims are identified as Zameer Khan son of Madad Khan of 18 years age, Arif Hussain son of Qamabar Ali age 25, Haji Muhammad Gul son of Sheikh Jan 45, Imranullah son of Usman Khan 30, Najeeb son of Rehmatullah 20, Muhammad Shoaib son of Shafiullah 19, Asif son of Tawas 28, Huzaiafa son of Naveed 12, Haroon Bilour 47, one young boy of around 20 years age in unkown.