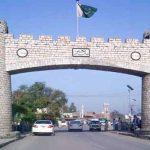 SWAT: The Malakand police have arrested 624 suspects and 67 proclaimed offenders during search operations in different parts of the Malakand division.
DIG Malakand Akhtar Hayat Khan said that the police carried out search and targeted operation indifferent areas of Malakand division including Swat. The police arrested 67 proclaimed offenders and 624 suspects.
He said that the police also recovered alcohol, drugs, weapons and ammunitions from the possession of the some suspects.
Talking to Khyber News, the DIG said that operations against criminals and anti-state elements would be speeded up.