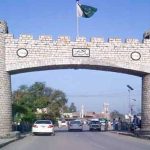 LONDON: Nobel laureate Malala Yousafzai on Sunday condemned the assassination attempt on Pakistan's Interior Minister Ahsan Iqbal.
Malala said the incident made her sad, adding that she was praying for quick recovery of the Pakistan's Interior Minister, who was attacked by a suspect Abid Hussain from a close distance of 15-yard when he was getting into his car after attending a party's corner meeting at the Kanjrur Tehsil in Narowal.
While the minister's condition is said to be out of danger and he is under treatment at Services Hospital in Lahore.
Malala also thanked Allah to protect Ahsan's live, saying the attack "did not end up being fatal." She also wished a peaceful life for the entire nation.
The Interior Minister was initially shifted to District Headquarters Hospital Narowal following the attack, but was later airlifted in Punjab CM' helicopter to Lahore.
The suspected shooter was taken into custody with a 30-bore pistol. He was identified as Abid Hussain, 21, residing in the jurisdiction of the Shah Gharib police station in Kanjrur Tehsil.