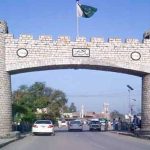 LONDON: Nobel Laureate Malala Yousafzai has strongly condemned terrorists' attacks at Peshawar's Agriculture Institute in which at least 11 people were martyred.
Malala took to twitter and condemned the brutal attack in which innocent people were killed on Eid Milad-un-Nabi (PBUH) Friday.
Malala tweeted, "When you pick up a gun in the name of Islam and kill innocent people, you are not a Muslim anymore."
At least 11 people including six students were martyred and 30 others injured as three terrorists attacked Agriculture Institute of Peshawar on Friday.
The terrorists were killed in a joint operation carried out by the Pakistan Army and local police.